Basic Binary MLM
Generally, one side sub-tree is referred to as Power leg while other is Profit leg. Basic Binary MLM is one of the simplest and easiest in the most popular marketing compensation plans. This binary multi-level marketing plan start to introduce by MLM companies in the late 1980s and later development, this MLM has many advanced features that commonly used an organizational structure by the early 2000s.
This Binary tree structure has complicated one; the blue individual has received compensation from the sales of the downline red members. Binary plan sub-tree has two legs that there is an outside leg, also known as power leg and an inside leg it is known as profit leg. Whenever the new distributors are recruited, these recruiters are always placed and positioned underneath their recruiters; it is typically in the next available node in the power leg, even if the recruiters don't have any leaf nodes in left. This is totally contrast and dissimilar with the profit leg and filled with members who is directly and straightly sponsored and supported or enrolled by their direct and immediate ancestors. This plan has an additional important element that it makes each member has only responsible and answerable for recruiting and sponsoring two other people to join this plan, which can be potentially and possibly leading to a rapid expansion of the plan, in a short time with a unlimited number of members.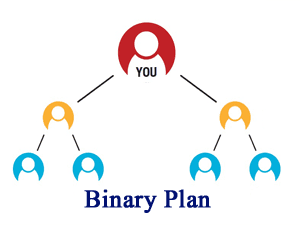 Though, if recruiter has successfully recruits more than two people, new one will be added and included to next available node in the power leg. This has allowed for profits from gaining a new member to be shared and distributed between all ancestors in the power leg, in spite of who has recruited them, this process is called spillover. This will help to foster and promotes a team like dynamic within basic binary MLM plan and it will encourage the collaboration between different personality's members as they are mutually obtaining benefit from adding new members.